Enjoy fun in the sun with a Sunroof...
Experience a whole new dimension in driving. Treat yourself to the incomparable pleasures of fresh air, light and the open road in your own luxury car. You can with a WEBASTO HOLLANDIA sunroof. And because looks count, the sunroof is installed with a factory perfect finish.
Whether you're in town or in the country you can enjoy the sunroof experience with one of the STRATOS range.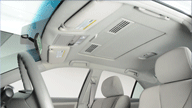 All sunroofs are to be undertaken at Sussex Windscreens in Southwick, Brighton and will taken roughly between 4 - 6 hours depending on vehicle and sunroof...

We specialise in repairs also, do you have a leaky renault clio sunroof ?
Sunroofs in sussex fitted by
Sussex windscreens